---
Talking About Censorship and Publishing: Many do not believe that publishers should release books that express dangerous ideas or books that are written by bad people. They reject the idea that the best answer to a bad book is a good one. How are we to resolve these differences?
---
SARS-CoV-2: Evolution of a virus: "SARS-CoV-2 could always pick up a mutation that could just change the game," Pardis Sabeti, a Harvard computational geneticist explains in this video exploring the basics of how viruses evolve as they infect more people, and how more infectious variants may be selected for. Sabeti and others use math and genetics to monitor new variants and provide insight into viral origins and spread.
---
Should we cancel political parties? Throughout the world, traditional political organizations are increasingly seen as dysfunctional. But can democracies live without them?
---
Data isn't oil, whatever tech commentators tell you: it's people's lives: The phrase "data is the new oil" is the cliche du jour of the tech industry. It was coined by Clive Humby, the genius behind Tesco's loyalty card, who argued that data was "just like crude. It's valuable, but if unrefined it cannot really be used. It has to be changed into gas, plastic, chemicals, etc to create a valuable entity that drives profitable activity; so must data be broken down, analysed for it to have value."
It turned out to be a viral idea: marketers, tech companies, governments, regulators and the mainstream media went for it like ostriches going after brass doorknobs (as PG Wodehouse might have put it) and it rapidly attained the status of holy writ.
But it's a cliche nevertheless and cliches are, as my colleague David Runciman once observed, "where the truth goes to die".
---
---
The truth about lying: You can't spot a liar just by looking — but psychologists are zeroing in on methods that might actually work
---
---
On the Road: The Woman and the Car (1909): In the early twentieth century, Dorothy Levitt, née Elizabeth Levi (1882-1922) was "the premier woman motorist and botorist [motorboat driver] of the world". The first Englishwoman to drive in a public competition, she triumphed during races in the United Kingdom, France, and Germany, defeated all challengers at the Championship of the Seas in Trouville, and set the women's world record in the Brighton Speed Trials: a whopping 79.75 miles per hour — lightspeed, circa 1905. (…)
Levitt was not only instrumental in advancing equality behind the steering wheel, she also forever altered the automobile form. Decades before rearview mirrors became standard issue, she recommended that ladies carry a hand mirror, for holding up to the landscape receding in their dusty tracks.
---
---
---
Ofcom's Orwellian muzzling of our media: Why had television news reporters, usually so determined to expose the shortcomings of senior politicians, seemingly been content to regurgitate the propaganda being pumped out of Downing Street for the past 15 months?
If, like me, you're a believer in freedom of the press, one possible answer to that question will shock you. On March 27, 2020, four days after Boris announced the first lockdown, Ofcom sent some 'important guidance' to its licensees, cautioning them to take 'particular care' when broadcasting 'statements that seek to question or undermine the advice of public health bodies on the coronavirus, or otherwise undermine people's trust in the advice of mainstream sources of information about the disease'.
Was this a shocking attempt to muzzle the free press? Three weeks later, the regulator showed it meant business by reprimanding Eamonn Holmes, presenter of ITV's This Morning, for breaching this guidance. His sin, according to Ofcom, was to say he didn't think people expressing unorthodox views about the virus – such as the one linking the symptoms of Covid-19 to 5G masts – should be vilified by the mainstream media. He didn't say he thought that particular conspiracy theory was true. In fact, he described it as 'not true and incredibly stupid'. He merely said it ought to be discussed.
---
Um Ano de Pandemia: uma Breve Síntese (INE, Março de 2020 a Fevereiro 2021):
• Número médio mensal de 11 170 óbitos aumentou 21,9%, que conjugado com a redução dos nados vivos (-4,8%), determinou um agravamento do saldo natural negativo que passou de 23 441, no ano pré-pandémico para 51 680 no primeiro ano da pandemia;
• Comparando com o ano anterior, redução do emprego em 2,1%, aumento da taxa de desemprego de 6,7% para 7,2% e da taxa de subutilização do trabalho de 12,9% para 14,5%, não obstante as medidas de política de apoio ao emprego e ao rendimento como o Lay-off simplificado e que terão impedido que se tenham atingido resultados no mercado de trabalho semelhantes aos verificados durante o programa de ajustamento da economia portuguesa;
• Contração de 8,4% do PIB em volume face ao ano pré-pandémico;
• Diminuição mais acentuada das importações de bens que das exportações (-17,4% e -11,2%, respetivamente), permitindo uma redução do défice comercial;
• Impacto muito negativo nas atividades turísticas e conexas, com especial destaque para a contração da procura dos respetivos serviços pelos não residentes, determinando que a balança de bens e serviços tenha apresentado um saldo negativo apesar da redução do défice comercial;
• Atividade da construção apresentou alguma resiliência, tendo-se registado nomeadamente um crescimento em termos médios nas transações de alojamentos novos (+7,3% em valor), das vendas de cimento em quantidade (+8,0%) e um aumento de 7,8% dos preços da habitação, relativamente ao ano pré-pandémico;
• No domínio do ambiente, redução de 13,7% na emissão de gases de efeito de estufa (variação de -9,9% no período pré-pandemia).
---
Drones may have attacked humans fully autonomously for the first time; Was a flying killer robot used in Libya? Quite possibly; Turkey Now Has Swarming Suicide Drones It Could Export
---
The origin of the gender gap: The international differences in women's status are striking. When and where did those differences first emerge? Is women's status improving everywhere today so that we expect global gender equality eventually? This column uses data from the Human Biological Record to explore women's status over the last 5,000 years. The records show no long-run trend in women's share in recorded history. Historically, women's power has been a side-effect of nepotism: the more important family connections, the higher the women's share. But self-made women began to rise among the writers in the 17th century before a broader take-off in the 19th century. Exploring these captivating and yet unanswered questions teaches us about the future of women and other emancipation movements.
---
Landscapes Brilliantly Turned on Their Heads
---
Why Misinformation Is About Who You Trust, Not What You Think: Two philosophers of science diagnose our age of fake news.
What are the best tools for good information?
Cailin O'Connor: Maybe we should have something like a ministry of information to decide what's true.
James Weatherall: I had a fascinating conversation with the policymakers in the European Union about their ability to engage critically with science. What they said was, Look, we agree that a certain kind of critical reasoning is essential to having true and reliable beliefs. Unfortunately, we're elected to represent particular groups and particular interests, and so we don't get to question certain assumptions because our constituents don't question those assumptions, and so wouldn't vote for us. We wouldn't be doing our representative job if we were questioning those assumptions.
Isn't that a cop-out?
Weatherall: Yes, but let's look at our institutions. Look at the way that they're failing. I think we could still have democracy with institutions that are better engineered, that are developed in response to the ways in which our current institutions are failing. We have some states that have direct voting on referenda and ballot measures. We need to find democratic institutions that are sufficiently representative, that are responsive to citizens but aren't simply aggregating the opinions and beliefs of the large group.
---
---
Artist Charles Young Completes Work on Daily Paper Model Project After Designing 365 Structures
---
France's Bernard Arnault Becomes the World's Richest Person: Bernard Arnault oversees an empire that includes many iconic French luxury brands, including; Louis Vuitton, Dom Pérignon, and Christian Dior. His luxury group, LVMH (Louis Vuitton Moët Hennessy), also spans retail and hospitality industries. It may be surprising that LVMH is thriving during the COVID-19 pandemic, but the company has been buoyed by strong sales in Asia – especially China. (+ The World's 25 Richest Millennial Billionaires)
---
YouTube said it took down ads featuring Belarus hostage videos: The advertisements promoted confession tapes released by government authorities of detained activist Roman Protasevich and his girlfriend Sofia Sapega. [act.: 'Bomb Threat' That Justified Belarus Hijacking Came 24 Minutes After; Protasevich Street? Bucharest mulls changing address of Belarusian embassy]
---
Album Cover Artwork Was Super Boring before Alex Steinweiss: Inspired by the Bauhaus and WPA posters, the midcentury designer all but invented the modern record-album cover.
---
Why Bill Gates and John Kerry are wrong about climate change
---
---
Quanto vale E=mc2, "a equação mais famosa de Einstein"? 1,2 milhões de dólares
---
Kalmykia, the only Buddhist region in Europe
---
People Are Using an Ancient Method of Writing Arabic to Combat AI Censors – After Palestinian content was restricted or removed from Instagram and Facebook, social media users developed a crafty method of altering Arabic script:
"It's not a new idea," Hamameh wrote. "The original Arabic script did not know pointing and Diacritics until decades after the passing of the prophet Mohammad."
"It's an easy technique, even for handwriting," Hamameh continued. "We draw our letters, so we can simply ignore adding the points. But it's much more challenging to the AI machine, which has a [binary] code for each letter."
---
Half of all MEPs do not disclose any meeting with lobbies: Regulation of the European Parliament is highly voluntary. Compared to 90% of Swedish, Danish or Finnish MEPs who disclose meetings with interest groups, only one out of ten Greek, Polish and Bulgarian MEPs do so.
---
This 'Post-Soviet Sad 3D' Game Is Not About Having Fun: "Nothing awaits you. Just a broken radio, loneliness, and endless snow." That's how Ilia Mazo, the brains behind It's Winter, introduces potential players to his game on Steam. That's pretty blunt, even for a Muscovite—but he also isn't far off the mark.
At the daring price of $9.99, you'll get a game deliberately devoid of plot, purpose, or characters. It's a sandbox re-creation of a lonely night spent in (and around) a khrushchyovka: one of the ugly, prefab complexes synonymous with mass housing in the USSR. It's a work of "post-Soviet sad 3D," he tells me, a sort of immersive exercise in melancholy.
---
---
QAnon's hallmark catchphrases evaporating from the mainstream internet: Data retrieved and analyzed by the DFRLab shows that the language of the QAnon conspiracy theory movement as it has historically appeared online has all but evaporated from the mainstream internet. In its wake lies a kind of neo-QAnon: a cluster of loosely connected conspiracy theory-driven movements that advocate many of the same false claims without the hallmark linguistic stylings that defined QAnon communities during their years of growth.
---
The Global Value of Music Copyright reached a record high of $31.6bn in 2019, up $2.1bn on prior year. Streaming makes up 47%.
Global Music Report 2020: Global Recorded Music Industry Revenues 2001-2020
---
---
---
---
---
Want to squeeze every last drop out of a toothpaste tube? Now you can.
---
Disinformation Dozen: The Sequel: Appearing before Congress in March, tech CEOs promised to act on twelve anti-vaxxers who are responsible for almost two-thirds of anti-vaccine content circulating on social media. One month on, our report shows that Big Tech has failed to act, allowing the spread of vaccine disinformation that has been viewed up to 29 million times.
---
Utopia, Dystopia: As literary concepts, "utopia" and "dystopia" have functioned as powerful tools of social and political critique, as they propose alternative visions of the future gone good or wrong. Gregory Claeys explores this dual nature, and its potential for imagining social change, while tracing back the historical roots and uses of utopianism. [btw, Utopia and Dystopia are two sides of the same coin; both just confirm the moral sensibilities you started with.]
---
Goodbye to the Future: The Last Days of Tokyo's Nakagin Capsule Tower: Situated in Ginza, this icon of Japan's architectural avant garde — designed by architect Kisho Kurokawa in 1972 — is destined for demolition.
---
---
As Anger Toward Belarus Mounts, Recall the 2013 Forced Landing of Bolivia's Plane to Find Snowden: What Belarus did, while illegal, is not unprecedented. The dangerous tactic was pioneered by the same U.S. and E.U. officials now righteously condemning it.
Other Regimes Will Hijack Planes Too: Authoritarian states in pursuit of their enemies no longer feel the need to respect passports, borders, diplomatic customs, or—now—the rules of air-traffic control. In this new world, dictators are ever more prepared to arrest or murder political dissidents anywhere, no matter what citizenship they might have or which foreign laws or bureaucratic procedures might theoretically protect them. Sometimes these regimes put pressure on other countries to help them. Other times they kidnap people unassisted. The price they have to pay as a result, in sanctions or in bad relations with the outside world, clearly no longer bothers them. (…)
In autocratic capitals all over the world, dictators and their flunkies are also watching to see how the West reacts—whether Lukashenko gets away with it and whether, perhaps, this new tool of oppression will become available to them too. Invariably, others will seek to use it, if only because it sends a message to their dissident and exile communities: You are not safe. You are never safe. Not even if you live in a democracy; not even if you have political asylum; not even if you are sitting on a commercial plane, thousands of feet above the ground.
---
Como o problema da desinformação passou a ser o da informação: "Who Is the Media Really For? The rules matter. They exist to protect the integrity of a news outlet and to protect the public from corruption. Instead, news outlets are failing consumers and journalists alike. They serve power rather than challenge it. The result is a weak press in a nation desperate for the truth. That's no way to serve the public."
---
Image Comics' 'Made in Korea' defiantly breaks the artificial intelligence mold: On May 26, Image Comics is releasing a new book about artificial intelligence. Rather than asking big existential questions — Why are we here? What makes something "alive"? Will robots one day kill us all? — Made in Korea is an intimate adoption story about a robot that is sent across seas to live with a caring couple in the United States in the not-so-distant future. The couple purchased the artificial surrogate child in an attempt to grow their family. However, upon the robot Jesse's arrival, she discovers her new parents aren't the only ones who are in need of her talents.
---
Today seems like a good day to unveil our 2021 Submarine Cable Map, don't you agree? Just Look at All Those Cables…
---
---
A blueprint for hybrid-remote work: While perhaps daunting at first, the "hybrid-work cube" below is actually quite intuitive. It identifies eight distinct "cells" where new ways of working (e.g. norms and tools) need to evolve (read: project teams need to be deployed to storm and form.) There are three dimensions to the solution, and their combination is where intentional design can happen.
---
Boom in ships that fly 'fake' flags and trash the environment: The number of ships using a 'flag of convenience' loophole that allows them to be scrapped in a place with lax environmental regulations is skyrocketing.
---
Who am I? You are a network
---
Commuting is psychological torture: Not doing that commute gave me 15 hours per week of my life back
---
---
---
Coming and Going Age Generations: Since no one has figured out how to defeat time, age generations come and go.
---
Population Predicts Regulation: a state's population size, rather than political ideology or any thing else, is the best predictor of its regulations.
---
The Transitory Nature of Content on the Internet: We are told that content posted on the Internet lasts forever. This is an oversimplification. While some content can last for decades, nothing is eternal, not even on the Internet. The whole truth is that content survives only as long as some person or organization is willing to pay to host it. Servers, electricity, and network bandwidth cost money. What survives is completely dependent upon the values, tastes, and perspectives of the parties hosting it. Much of what the Internet contains has an extremely short shelf-life when compared to the rest of history. For many of us, perhaps for most of us, much of what we post will be more or less hidden in obscurity until it finally disappears forever. And, very likely our most profound insights will have the briefest endurance in a society that seems to value only small ideas, easily digested.
---
We don't know how to fix science: The conversation around science is full of ideas for reform, but how do we know which ones will be effective? To find out what works, we need to apply the scientific method to science itself. Science has become a cartel: There's a reason the medical establishment dismissed the lab leak theory
---
Petrus Apianus, Cosmographia, Antverpiae : Ex officina Arnoldi Coninx [typis Joan. Withagii], 1584. Apianus focuses on the different climatic zones of the earth and discusses methods for calculating distances of travel, revealing the knowledge and skills required by explorers in the 1500s as they embarked on long and dangerous journeys.
---
Estados Unidos formaliza su propuesta de una tasa corporativa global del 15% ante la OCDE: La Administración de Joe Biden ha propuesto a sus socios de la Organización para la Cooperación y el Desarrollo Económicos (OCDE) una tasa corporativa global de al menos el 15%, ha indicado este jueves el Departamento del Tesoro mediante un comunicado. El texto calificó de alentadora la recepción de la propuesta de "una nueva arquitectura impositiva internacional" por parte de sus socios.
El porcentaje es inferior al 21% al que la OCDE aspiraba inicialmente. El anuncio del Tesoro subraya que el 15% es un umbral a partir del cual se produzcan esfuerzos "más ambiciosos" y se pueda "aumentar esa tasa" para frenar la carrera a la baja registrada en los últimos 30 años. Es una de las propuestas en las que lleva tiempo trabajando la OCDE, sin resultados hasta la fecha.
---
COVID-19 rarely spreads through surfaces. So why are we still deep cleaning?
---
Here's who owns everything in Big Media today: It probably won't look like this for long.
---
---
The joys of being an absolute beginner – for life: The phrase 'adult beginner' can sound patronising. It implies you are learning something you should have mastered as a child. But learning is not just for the young
---
The Anxiety of Influencers: Educating the TikTok generation: For a moment, I cannot remember who I am or why I am sitting here amid this sea of beautiful young people, all of them desperate for recognition, their whole lives ahead of them, empty at the absolute center. TikTok is a sign of the future, which already feels like a thing of the past. It is the clock counting down our fifteen seconds of fame, the sound the world makes as time is running out.
---
---
Drones add little to rocket-filled Israel-Palestine skies, but represent growing global threat: So far, drones don't appear to have radically changed the dynamics of conflict in Israel and Palestine. But their use in the current conflict suggests how hard it will be to put the unmanned aerial genie back in the bottle.
---
The Axios Harris Poll 100 is based on a survey of 42,935 Americans in a nationally representative sample
---
CbcR: Will the push for greater EU tax transparency fall at the final hurdle? It's been blocked by EU governments for years, but just as the finishing line is in sight for an EU law on mandatory tax transparency, France is threatening to kill it if it is not watered down. The country's position on Country-by-Country-Reporting has the marks of its business lobby —literally. (…)
This problem is global; researchers at the University of California, Berkeley and the University of Copenhagen have found that every year, a good 40 per cent of all worldwide multinational profits are shifted to low-tax countries. According to estimates by the EU Commission, what it means is a loss to EU member state coffers of up to €70 billion a year. This is equal to almost half of the EU's annual budget.
---
Fuck the Bread. The Bread Is Over. What does it mean to be worth something? Or worth enough? Or worthless? What does it mean to earn a living?
---
---
Researchers shed light on the evolution of extremist groups: Social media platforms have been struggling to control the growth of online extremism, according to Johnson. They often use a combination of content moderation and active promotion of users who are providing counter messaging. The researchers point out the limitations in both approaches and suggest that new strategies are needed to combat this growing threat.
"One key aspect we identified is how these extremist groups assemble and combine into communities, a quality we call their 'collective chemistry'," Yonatan Lupu, an associate professor of political science at GW and co-author on the paper, said. "Despite the sociological and ideological differences in these groups, they share a similar collective chemistry in terms of how communities grow. This knowledge is key to identifying how to slow them down or even prevent them from forming in the first place."
---
Para quem não se lembra, é o realizador deste "Imagine"
---
O apetite dos media pela violência mas não pela sua análise: Media bias delegitimizes Black-rights protesters – Linguistic analyses show that powerful sources and sensationalist terms have long dominated coverage of civil-rights protests.
In our preliminary analysis of cable news and Associated Press coverage from May to December 2020, there's a small rise (12% of coverage) in mentions of police violence during protests from years past. Otherwise, there is little change. Headlines such as "Police violence is just the tip of the issue", and "Lawmakers use protest momentum to push state racial reforms", made up only about 69 of 690 articles. Headlines focusing on protester violence and disruption were about four times more common. There were days when some protesters were violent or used radical tactics, but there were solid weeks of peaceful demonstrations. Descriptions of the latter appear in only 4.9% of articles.
---
Map of Africa's borders if divided by Languages ​​and Ethnicities.
---
Long Working Hours Cause 745,000 Deaths A Year: The World Health Organization and the International Labor Organizaton have released a first of its kind study which found that 745,000 people died in 2016 due to long working hours, a 29 percent increase on 2000. Working 55 hours a week or more is associated with a 35 percent higher risk of a stroke and a 17 percent higher risk of dying from heart disease. The burden of work-related disease is most prevalent in men with 72 percent of dreaths occurring among males. According to the WHO, most of the deaths occurred among people who passed away aged between 60 and 79 who worked 55 hours per week or more while aged between 45 and 74.
---
---
---
One of the most iconic cars from Bentley's history – Sir Tim Birkin's 1929 supercharged 4½-litre "Blower" – has been reborn into a series of individually handcrafted masterpieces, by a team of specialists from Bentley's bespoking and coachwork division, Mulliner. These cars will form the world's first pre-war race car continuation series, and with a limited run of just 12 examples, all have already been sold.
---
G/O, formerly Gizmodo Media Group, is launching a first party data platform called G/O Veritas to sell ads against the data it collects from its 11 websites
---
Gigantic KAWS hot air balloon to take flight over major world cities: KAWS, whose real name is Brian Donnelly, announced plans to fly his huge new sculpture above major cities in countries including Australia, China, Turkey and Spain. The exact schedule will be dictated by demand for flight packages, which will see groups of two or three ascend in the balloon for an as-yet-undisclosed price.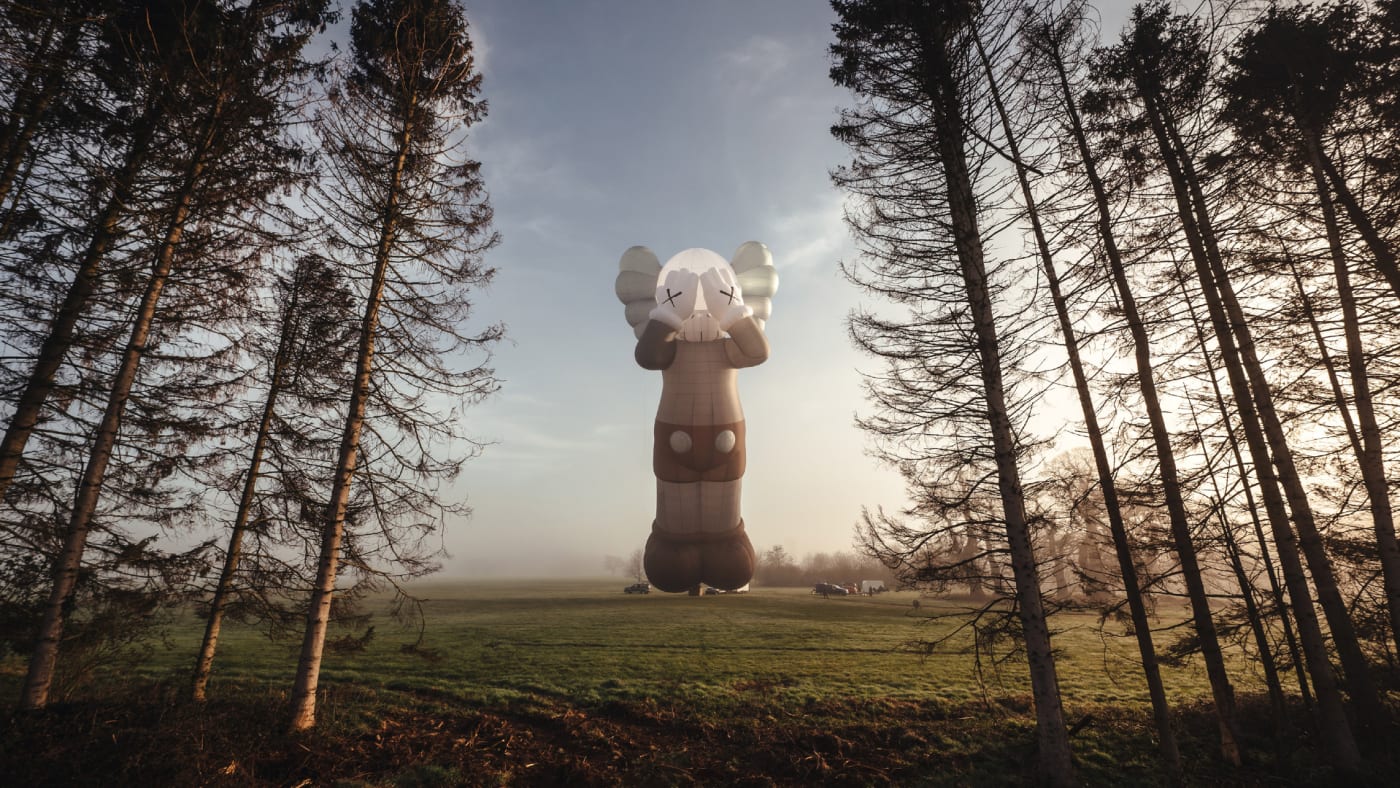 ---
Some brands have experimented with connected watches. Patek [Philippe] has not. Why? It's not our field. Can you imagine? Am I going to fight against Apple, which has nearly the same budget as I do in R&D, except they have five more zeros at the end of it? I can't compete with that. It's another way to fabricate watches. We have always been dedicated to mechanical watches, this is what we know and what we enjoy. Working on something electronic may be fun, but it's not my business. You have to give it to the pro, and I'm not a pro in this type of technology.
---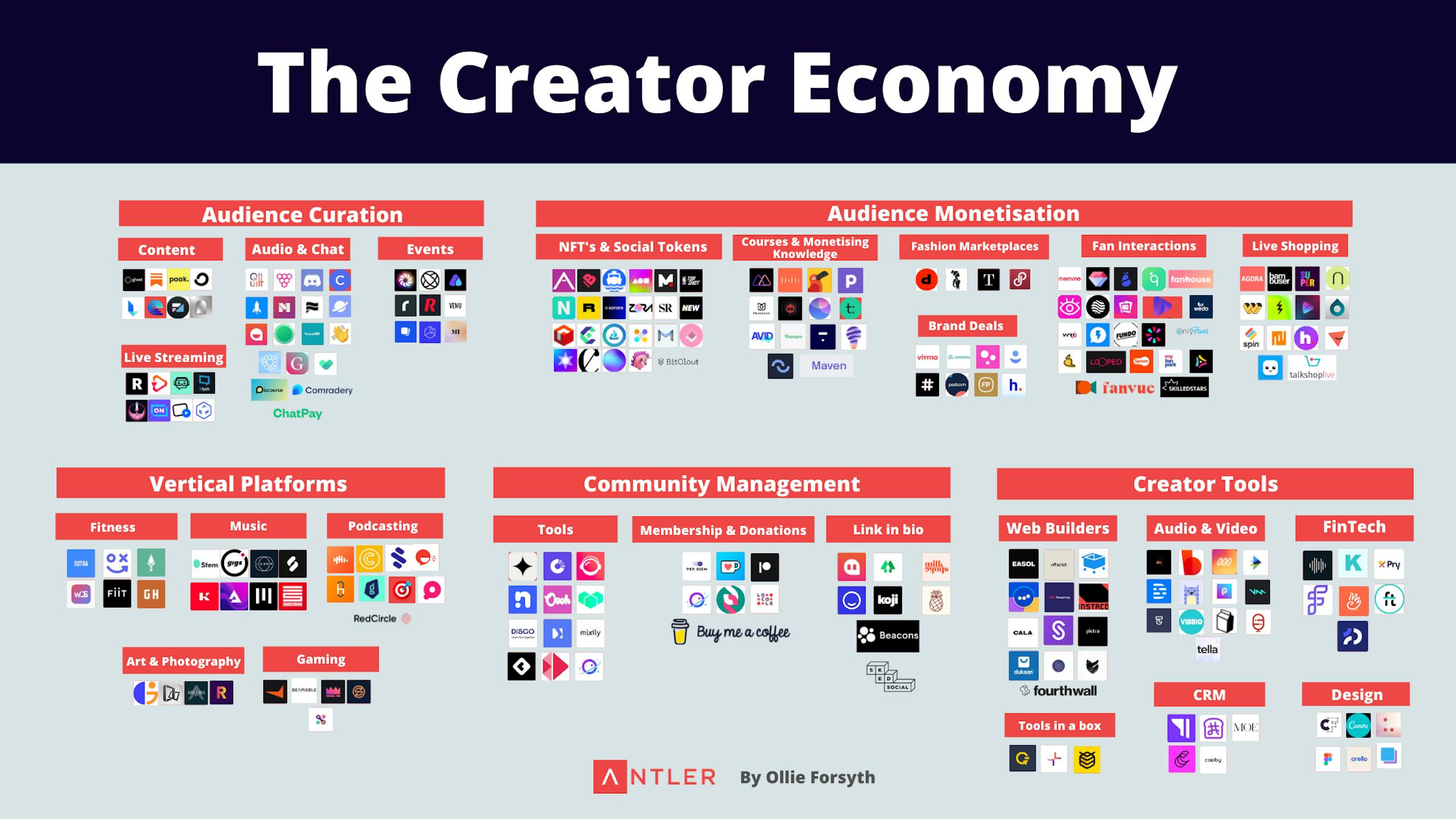 ---
A Cultural Evolution of 'Shrek', from Blockbuster Hit to Historic Meme: On the 20th anniversary of the original film, mega-fans, academics and 'Shreksperts' weigh in on its even more curious existence online: an unfunny and overrated low for blockbuster animation
---
What Is an Entertainment Company in 2021 and Why Does the Answer Matter? Entertainment companies today don't make movies or TV shows. They don't even mainly "tell stories". They manage the proprieties of those stories in such a way to create and sustain deep affinity, i.e., build love.
This is a very different rubric than the media industry is used to.
---
AT&T/Warner: I'm not a media analyst, and this story has been covered everywhere over the weekend, but I note with weary familiarity that, yet again, a telco spent a huge amount of money buying a media business, arguing that there would be synergy, and leverage, or at the very least some churn-reduction, and then a few years later admitted that none of that happened and that these are almost entirely unrelated industries.
---
The five major findings of our report Plastic Waste Makers index:
In 2019, just 20 polymer producers accounted for more than half of all single-use plastic waste generated globally – and the top 100 accounted for 90%.
ExxonMobil and Dow – both based in the USA – top the list, followed by China-based Sinopec, with these three companies together accounting for 16% of global single-use plastic waste.
Major global investors and banks are enabling the single-use plastics crisis.
There has been a collective industry failure to transition away from fossil-fuel-based feedstocks.
Planned expansion of virgin polymer production capacity threatens to overwhelm hopes of a circular plastics economy.
Single-use plastic waste is an entrenched geopolitical problem.
---
Quando querem uma informação, "os utilizadores desejam envolver-se com um especialista, mas geralmente recorrem a um sistema de indexação de informação, como um motor de busca". "Os sistemas clássicos não atendem às necessidades de informação directamente mas, em vez disso, fornecem referências para respostas" que se espera serem de especialistas, de "vozes de autoridade".
Pode ser diferente? "Especialistas" da Google tentam responder em "Rethinking Search: Making Experts out of Dilettantes".
---
For My Job, I Check Death Tolls From COVID. Why Am I Numb To The Numbers?
---
A network analysis of COVID-19 mRNA vaccine patents: A preliminary network analysis highlights the complex intellectual property landscape behind mRNA-based COVID-19 vaccines: In an attempt to demonstrate the complexity involved in IP protections and licensing deals surrounding COVID-19 vaccine technology, we developed a preliminary patent network analysis. We identified patents that were relevant to various vaccine technology platforms and used US Securities and Exchange Commission (SEC) filings to highlight pertinent licensing deals.
---
Technocratic Plimsoll Line: Political culture is (necessarily though?) a culture of scapegoating and ass-covering. That doesn't play well with devising good solutions. Keeping the Plimsoll line clear and isolating the technocrats from the political culture may therefore result in better execution. To give an example, I've used to work as an SRE at Google. SRE is a person responsible for the Google's websites being up and running. One important aspect of that job is so-called "blameless culture". What it means, in essence, is that when one screws up and accidentally brings the website down, they are not blamed. The incident is instead analyzed in an impersonal way, as a failure of the system. Instead of firing the person the changes to the processes are proposed that would have prevented the outage. It's quite clear how that prevents people for hiding information and pointing fingers at each other. Now, some people may object that the blameless culture is an utopia and can't exist in the real world. A hint that it may not be so is that when Google employees sent a letter to the management protesting against Google developing software for military drones. The letter was signed unproportionally more often by the SREs than by the programmers or by the managers. To me, at least, that sounds like SREs enjoy more political freedom and fear less being singled out and scapegoated. As an another hint, watch this talk by a Google employee who was called to fix the failing Obamacare website and, in the process, encountered an environment with much lower Plimsoll line.
---
A Field Guide to the Long History of Skyjackings: Plane hijackings have been around since the dawn of aviation. From D.B. Cooper to the PFLP, here's an overview of the different eras of our cultural fascination with airplane-takeovers.
---
Pivoting to Virtual Races, Drone Racing League Creates End-to-End Cloud Production: Sports betting, 5G are in the league's post-pandemic plans
---
Daniel Kahneman: 'Clearly AI is going to win. How people are going to adjust is a fascinating problem': There is going to be massive disruption. The technology is developing very rapidly, possibly exponentially. But people are linear. When linear people are faced with exponential change, they're not going to be able to adapt to that very easily. So clearly, something is coming… And clearly AI is going to win [against human intelligence]. It's not even close. How people are going to adjust to this is a fascinating problem – but one for my children and grandchildren, not me.
---
How usual is it to work from home? What is the future of commuting to work?
---
Churchill on Science and Civilization: As external sources of wisdom weaken, science will, in its relentless way, begin to drive human affairs — a situation that Churchill considered unacceptable. Balance and proportion must be maintained: "The duty of a university is to teach wisdom, not a trade; character, not technicalities. We want a lot of engineers in the modern world, but we do not want a world of engineers. We want some scientists, but we must keep them in their proper place." In another context, years earlier, Churchill described the Germans before the war as some of "the most educated, industrious, scientific, disciplined people in the world" — but people who had been "taught from childhood to think of war and conquest as a glorious exercise, and death in battle as the noblest fate for man." Science is evidently no guarantor of liberty or civilization; traditional values, Christian ethics, and the shared study of the humanities are necessary sources of moderation in human life and politics.
---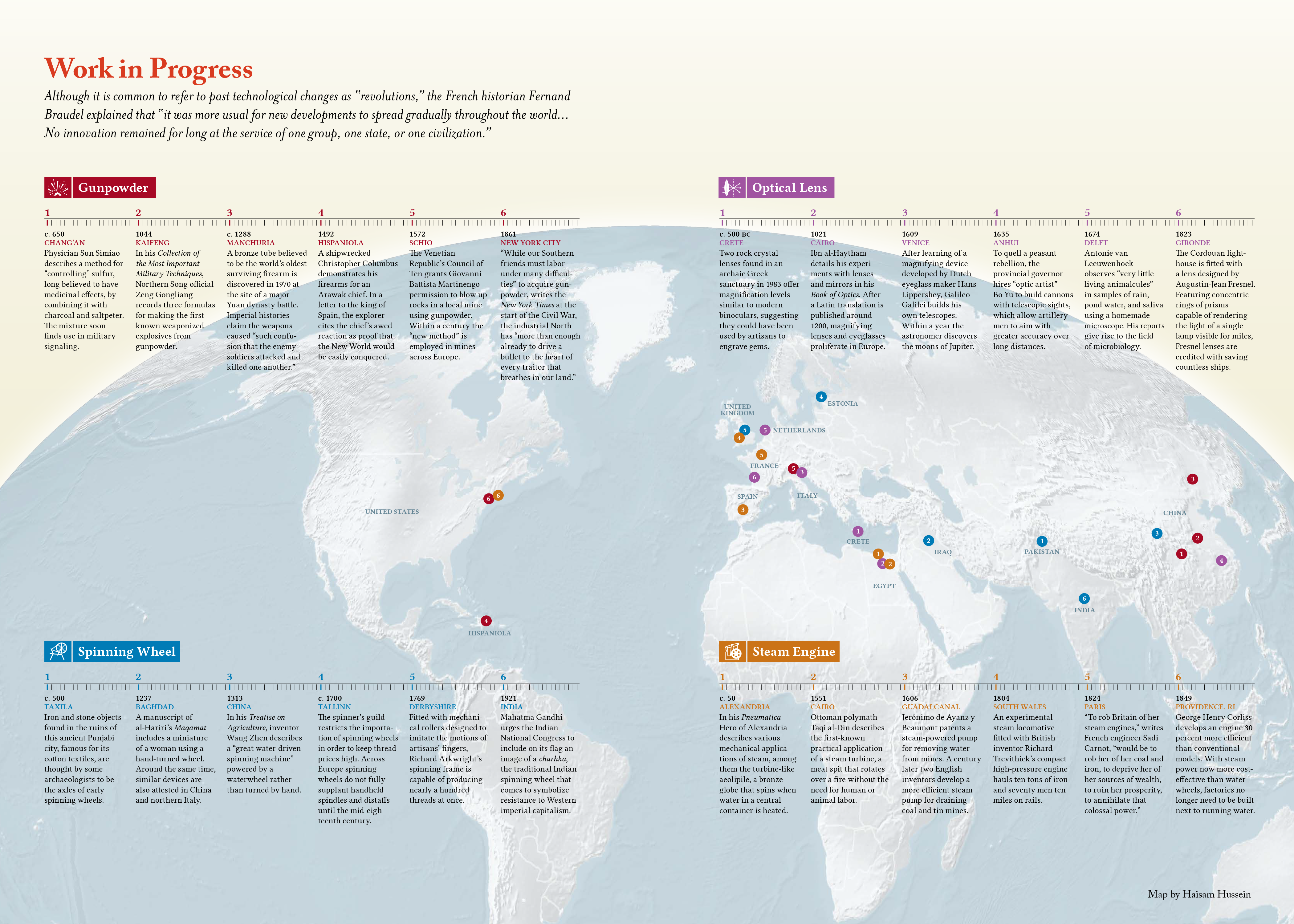 Work in Progress: Four inventions travel the world in search of their best selves.
---
Can Incentives Sway the Vaccine-Hesitant? With the pace of vaccinations slowing in the U.S., some states and cities are turning to perks — from free beer to cash — to reach those reluctant to get their shot.
---
Recommended Reading: Amazon's algorithms, conspiracy theories and extremist literature: In driving users towards conspiracy theories, disinformation and extremist books, Amazon's recommendation algorithms are potentially directing their customers toward content which could lead, directly or indirectly, to harm.
---
Make Way for the 'One-Minute City': While the "15-minute city" model promotes neighborhood-level urban planning, Sweden is pursuing a hyper-local twist: a scheme to redesign every street in the nation.
---
---
---
Ligações entre o futebol e petróleo: When Pep comes calling, the oil market answers: The effect of football player transfer movements on abnormal fluctuations in oil price futures: We examine effect of player-transfers in football clubs (FC) owned by oil sheiks on oil futures. In these FCs, expense for buying players often far exceeds receipt from selling players. This deficit significantly and positively affects the abnormal oil spot returns. These spot price adjustments are normally reflected in the futures market. The exception is when the deficits were linked with transfers of highest profile players.
---
Totalmente de acordo, quase 20 anos depois: I've been a blogger for a little more than 20 years and in that time I've written a little more than 20 books (…) "Blog," the story goes, "and you will build a brand and a platform that you can use to promote your work."
Virtually every sentence that contains the word "brand" is bullshit, and that one is no exception.
---
How to stand against the Darkness: We are now in one of those times. The news headlines from around the world give us a continual stream of dark portents. Concentration camps and forced mass sterilization of minorities in China. Millions rendered stateless by a new law in India amid a retreat of secularism. A coup attempt and election denial as a normalized political strategy in America. Rising authoritarianism in Turkey, in Hungary, in Brazil, in the Philippines, in Israel. Protesters massacred in Myanmar, massacred in Iran, suppressed in Belarus, suppressed in Hong Kong. Mass surveillance everywhere. Internet shutdowns. "Anti-terrorism" laws.
But headlines are just anecdotes. Unfortunately data tells the same story.
---
The Memories Of The Future": Photographer Nuno Assis Captures Fantastic Photos Of Hong Kong
---
Living, working and COVID-19 (Update April 2021): Mental health and trust decline across EU as pandemic enters another year
---
Digital Newspaper Subscriptions Will Exceed Print By 2027: The digital dominance may happen as early as mid-2024 if online subscriptions exceed their historical growth or print shows an even steeper decline, according to Mather Economics. The consulting firm recommends newspapers develop a strategy to raise prices on digital subscriptions to make up for print losses.
---
We Found Joe Biden's Secret Venmo. Here's Why That's A Privacy Nightmare For Everyone. The peer-to-peer payments app leaves everyone from ordinary people to the most powerful person in the world exposed.
Boris Johnson's phone : what can hackers do with your mobile number?
---
China prepares to land first rover on Mars — and reveal fresh geological insights: The attempted landing of Zhurong could happen imminently, and is the biggest test yet of China's nascent deep-space exploration capabilities.
---
bookcases, bookshelves, spaces
---
For much of human history, the notion of nature as a collection of things apart was a peculiar idea. In recent decades, many scientists and writers have argued persuasively that if there ever was such a thing as the "natural world," it's long gone. The collective human footprint is now so large and deep, they say, that it affects the entire planet, even places humans don't inhabit. While that's all too true, the word "nature" is more than just inaccurate. The vagueness of the concept allows us to believe that humans exist outside it. And if we can imagine that nature is over there, far away, we can also imagine that the damage we are doing to it is sad but not dangerous.
The word "nature" as it's used today has a relatively short history. Portuguese <-> natura (abstract phenomenon of birth)
---
Movies Every Physics Student Should Watch: Physics movies affect many of us powerfully due to the combined impact of scenery and music, technical detail and philosophical dialogue, futuristic lighting and a multitude of other special effects, all of which elicit deep feelings and even help us to reflect back on our lives.
---
---
Europe's COVID-19 Spending Spree Unmasked: In Portugal, all government contracts are open by default on BASE, but usually small contracts are not available there. Because the Portuguese government passed a law that simplified pubic tenders process during the pandemic, they decided to publish data on the Portuguese Open Data Portal (dados.gov.pt). That ended up with BASE not having all contracts but also with this excel on dados.gov.pt not having it too, because some institutions decided to simply buy the things they needed stating on the contract that they are doing it because of covid-19.
---
NFTs entram no dicionário Merriam-Webster como NFT – e este não está à venda no eBay
---
Amazon vs CE: Segundo o Tribunal Geral, a Comissão não demonstrou de forma juridicamente bastante a existência de uma redução indevida da carga fiscal de uma filial europeia do grupo Amazon. 'Champions League of tax avoidance:' Uber used 50 Dutch shell companies to dodge taxes on nearly $6 billion in revenue, report says
---
Manipulating Facebook's Notification System to Provide Evidence of Techno-Social Engineering: Techno-social engineering (TSE) theory argues that digital platforms shape and program human behaviors. We provide empirical evidence of this theory by introducing a novel method to conduct in-network studies on Facebook. We manipulate Facebook's birthday notification system by recruiting confederates to change their birthday to a randomly assigned date and then measure network members' responses in terms of whether they leave a greeting or question the veracity of the date. TSE theory leads us to expect that more participants will wish happy birthday on the fake date than question its veracity. We explore variables expected to predict heterogeneity in terms of response: prior birthday wish behavior, friends in common between the confederate and participant, and tie strength. All variables are associated with an increased likelihood of responding to the stimulus; however, none of these variables predict how individuals respond. Even participants who knew the confederate's birthday and tracked it off-line were still tricked by the stimulus. Results offer empirical evidence supporting TSE theory and provide a new method for studying human–computer interaction.
---
A Brief History of People Losing Their Minds in Antarctica: the southernmost continent really drives people mad.
---
The Rise And Fall Of Online Culture Wars: How do Internet atheism and Internet feminism help us understand the current cultural moment? Starting around 2014, Internet feminism went mainstream. This graph doesn't really prove that. Maybe the New York Times just dectupled the amount of space it devoted to sexism for non-Internet-related reasons. But as somebody who lived through this period and watched it closely – no, it was the Internet. The blogs and forums of the early 2010s were a memetic breeding ground that produced new and more compelling versions of old ideas, and one of them took over liberal culture.
---
Will New Privacy Changes Protect Census Data or Make Things Worse? The [Census] bureau, which relies on Americans willingly sharing their private information under the assurance they won't be personally identifiable, decided to conduct its own test. In 2016, it found that by combining a relatively small fraction of the statistics it published after the 2010 Census with commercial datasets available at the time, anyone could undermine the Census's current privacy system and reconstruct the name, location, and key demographic characteristics of about 52 million people.
"If they'd used more statistics, it could have been worse. If they'd used more rich commercial datasets, it could have been worse," said Cynthia Dwork, a computer science professor at Harvard University.
That discovery kicked off one of the most consequential changes in the Census Bureau's history in 2017—a privacy overhaul designed to prevent even the most advanced snoops from using the hundreds of billions of statistics the bureau publishes every 10 years to link confidential data back to individuals and exploit their highly personal information.
But that shift—now in its final stages—isn't going quite as planned.
---
Will Artificial Intelligence Make Military Pilots Go Out Like the Dinosaur? Emerging or future AI-enabled autonomy will incorporate a vastly superior wealth or range of information, improve processing and analytics, and perform decision making related to a host of complex dynamics without needing humans.
---
Políticas de vacinação em vários países, incluindo Portugal: Employers cannot require compulsory vaccination. Vaccination is recommended but in no case mandatory. Employees who refuse to vaccinate may be subject to additional health and safety measures to mitigate risks of infection.
---
Meet the most famous North Korean on YouTube: Today, Heo has more than 20,000 subscribers on his YouTube channel Humans of North Korea. He is one of a growing number of defectors from the north who have turned to vlogging as a way to assimilate into South Korean society. There are now dozens of North Korean YouTubers, whose videos cover North Korean cuisine, dating, and even mukbang, or the art of vlogging while eating.
---
Pantone and Highland Spring Release a Helpful Pee Chart Because Y'all Need to Hydrate
---
Data: Axios research; Table: Andrew Witherspoon/Axios
---
Index of US Mainstream Media Ownership: to provide radical transparency and a better grasp of the U.S. Mainstream Media by listing publishers (owners, majority voting shareholders, and donors of titles) considered major US daily news sources. We have time-stamped this index – May 11, 2021.
---
The best times to post on social media in 2021
---
Only very expensive movies fail occasionally – extremely expensive ones don't.
---
---
Striking Photos Frame the Half-Renovated Houses of a Former Mining Region in Germany by Wolfgang Fröhling
---
Is gaming the next social media? Disillusionment with social media has people seeking new ways of digital engagement, Fajt explained. "At the end of the day, social media is not super social—it's you in isolation, scrolling through a feed. And I think it creates this need for people to have real-time social connection."
These new social gaming platforms are changing that, evolving gaming into a community-first social space. "Gaming is the future of social," said Daniel Li, partner at venture capital firm Madrona Venture. And, he explained, for gen Z, "gaming is replacing not just old games, but it's replacing TV and Netflix. So instead of going to watch music videos on YouTube, you're going to a concert in Roblox and that's a social experience with your friend…instead of going to the mall, now you're in Roblox. It's where kids are hanging out and it's where culture is created."
'A wonderful escape': the rise of gaming parents – and grandparents: Video game popularity soared during the pandemic, as people sought distraction and ways to connect with loved ones
---
Global Evidence on Economic Preferences
Portugal averso ao risco: "In 95% of countries, the gender coefficient is nonzero and in the direction of greater risk aversion among women. Of these, 82% are statistically significant at least at the 10% level. This reveals the widespread prevalence of the gender difference in risk preference, in qualitative terms, across a wide range of cultures and on a representative basis. [I]n almost all countries, lower cognitive ability is associated with significantly greater risk aversion. The age profiles (…) imply that risk tolerance is decreasing with age for both OECD and non-OECD countries. This similarity in age profiles is interesting given the diversity of historical experiences across countries, for different age groups".
---
"Hey guys!": How [YouTube] creators greet their audiences
---
via Azeem Azhar
---
---
What will our descendants make of the glass screens and rare earth metals of our smartphones? How cities will fossilise
---
---
---
---
---
@Dr_Drapper (a partir destes Diferentes tipos de artigos científicos)
---
---
'It was exhilarating': how the Guardian went digital – and global. How did the Guardian survive 200 years? What we got wrong: the Guardian's worst errors of judgment over 200 years
---
Stephen Fry Would Like to Remind You That You Have No Free Will: I would say that 98 percent of all philosophers would agree with me that essentially free will is a myth. It doesn't exist. That ought to be shocking news on the front of every newspaper.
There's No Such Thing as Free Will: But we're better off believing in it anyway.
Facebook's war on free will – How technology is making our minds redundant: In reality, Facebook is a tangle of rules and procedures for sorting information, rules devised by the corporation for the ultimate benefit of the corporation. Facebook is always surveilling users, always auditing them, using them as lab rats in its behavioural experiments. While it creates the impression that it offers choice, in truth Facebook paternalistically nudges users in the direction it deems best for them, which also happens to be the direction that gets them thoroughly addicted. It's a phoniness that is most obvious in the compressed, historic career of Facebook's mastermind.
---
It Began as an AI-Fueled Dungeon Game. It Got Much Darker: The game touted its use of the GPT-3 text generator. Then the algorithm started to generate disturbing stories, including sex scenes involving children.
---
---
---
Todas as bolas têm a mesma cor. Explicação.
---
---
---
---
The 2021 Perception Sensor Industry Map
---
---
World's Largest Photo of New York City
---
---
---
---
---
They Told Their Therapists Everything. Hackers Leaked It All: A mental health startup built its business on easy-to-use technology. Patients joined in droves. Then came a catastrophic data breach.
---
British Sensibilities, Japanese Locale
---
The company where colleagues decide your salary
---
---