Capacidade das empresas para assegurar o pagamento das remunerações numa situação de paragem total da atividade: O setor com menor capacidade de fazer face aos custos salariais com recurso a disponibilidades é o do alojamento e da restauração, precisamente um dos mais expostos às medidas de contenção adotadas. Neste setor, 50% das empresas não disporiam de recursos para assegurar muito mais do que 1 mês de custos salariais. Em situação oposta, o setor mais preparado para fazer face a encargos com salários recorrendo a disponibilidades seria o comércio, uma vez que 50% das empresas conseguiriam assegurar aproximadamente 4 meses de pagamento de salários com recurso a disponibilidades.
| Política
The Slovenian government late on Thursday (14 May) called an official end to its coronavirus epidemic, becoming the first European country to do so, after authorities confirmed less than seven new coronavirus cases each day for the past two weeks.
Trump: Without Coronavirus Testing 'We Would Have Very Few Cases,' Here Is The Reaction: More testing, more cases of Covid-19 coronavirus infections? Less testing, fewer cases? Well, that's a different way to look at things. (Outra perspectiva: On hospitals and the possible financial incentive of COVID-19 patients: Medicare is paying a 20 percent add-on to its regular hospital payments for the treatment of COVID-19 victims. That's a result of a federal stimulus law. [Pelo contrário: Moscow officials: More than half of coronavirus patient deaths not included in totals])
Strategy for a Pandemic (The UK and COVID-19): The UK public strongly backed the lockdown when it was introduced. During the week when it came into effect, fully 96% supported it. 57% would have been prepared to go further, for example by banning all public transport. One reason why voters backed the lockdown was that they understood what it meant: more than four in five voters thought the rules were clear. Voters have reacted very differently to this week's change in policy – public are evenly divided on the new rules: 44% support them, while 43% oppose them.
Firms given £1bn of state contracts without tender in Covid-19 crisis: Ministers told not to use coronavirus as 'blank cheque' to evade accountability vs MPs raise new security fears as Chinese tech giant Huawei seals £5m deal with Imperial College to help build new tech campus in London: University's research has been by Government to form policy on Covid-19
| Economia
Shopping behavior in times of crisis vs Lives vs lives – the global cost of lockdown: Policies that depress the world economy put millions at risk
The Coronavirus Could Cripple Public Finances. But there is danger in stimulating the economy on credit: It could spark a post-crisis crisis. [Or] COVID-19 Economic Impact Could Reach $8.8 Trillion Globally. Ex.: Rich List 2020: Britain's wealthiest lose billions to coronavirus
[Teletrabalho?] Manhattan Faces a Reckoning if Working From Home Becomes the Norm: Even after the crisis eases, companies may let workers stay home. That would affect an entire ecosystem, from transit to restaurants to shops. Not to mention the tax base. [btw, How exposed is your job?]
| Ciência
The science around Covid-19 is bitterly contested. Many experts have serious doubts about the effectiveness of the measures, and argue that our outsized fears of Covid-19 are not justified.
Why herd immunity to COVID-19 is reached much earlier than thought: How can it be true that the "herd immunity threshold" (HIT) has been reached in Stockholm County with only about 17% of the population having been infected, while an R0 of 2.0 is normally taken to imply a HIT of 50%? A recent paper (Gomes et al.) provides the answer. It shows that variation between individuals in their susceptibility to infection and their propensity to infect others can cause the HIT to be much lower than it is in a homogeneous population.
What the Coronavirus Does Inside the Body: Risk factors for COVID-19 death revealed in world's largest analysis of patient records to date. 'Weird as hell': the Covid-19 patients who have symptoms for months
Aviso: o confinamento pode provocar alucinações
Testes serológicos: a balança entre o risco e o benefício: Como conclusão, apesar destes testes serem um importante recurso para acompanhar a evolução da luta contra a covid-19, a sua utilização deve ser devidamente planeada. O balanço entre o risco e o benefício na utilização destes testes em populações não expostas, como acontece na generalidade das empresas, deve ser tomado em conta. Nestas situações é expectável um benefício baixo e um risco elevado se o teste potenciar uma falsa sensação de segurança.
140+ Global Leaders Call for Free "People's Vaccine" to Put Human Lives Above Corporate Greed in Fight Against Covid-19 [Durão Barroso por Portugal…]
| Tecnologia
This Is What a Contact Tracing App Could Look Like [but] How will Europe's coronavirus contact-tracing apps work across borders? As an epidemiologist, I know how well contact tracing could work for coronavirus: If used with adequate testing, isolation and social distancing, tracing could be key to reducing the spread of Covid-19
How Google and Apple outflanked governments in the race to build coronavirus apps: Tech giants played hardball in forcing policymakers to fall in line with their approach to building digital tracking tools.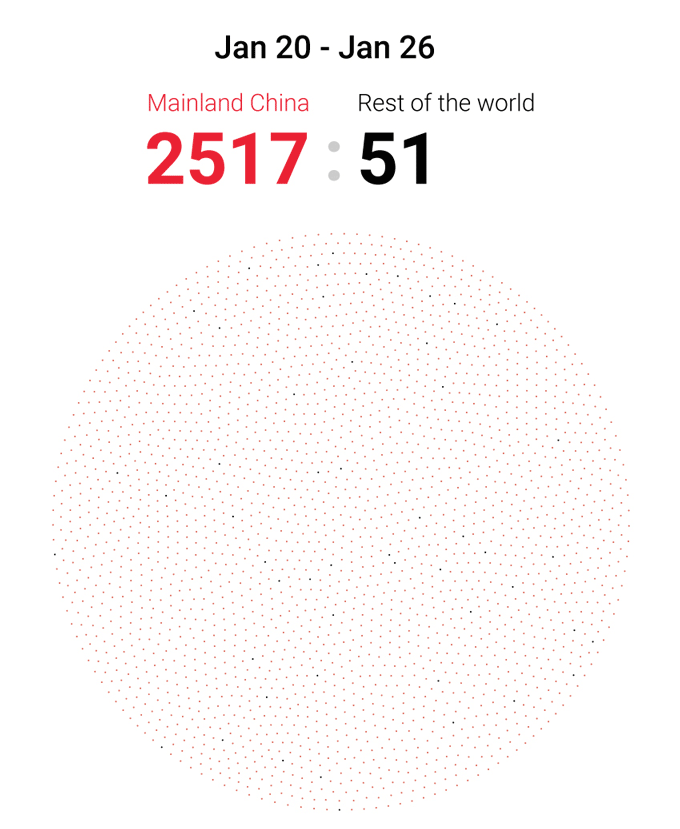 | Privacidade
When did we give our liberty away? Tribunal ordena libertação de pessoa em quarentena num hotel dos Açores
Remembering Huxley's Warning: Propaganda and Totalitarianism
| (Des)Informação
What will the coronavirus pandemic mean for the business of news? "A lot of news media won't make it but this is an opportunity for some"
Fear kills: The media's deranged fearmongering over Covid-19 has had terrible consequences. vs Ensuring the public's right to know in the COVID-19 pandemic
Best data journalism of the pandemic so far
| Sugestões
What a time to be a penguin.