How likely are you to die of coronavirus? It is probably the most basic question you can ask about a disease, and yet it's bloody hard to answer. It changes between places and over time, and between different groups; it depends on a variety of hard-to-measure factors, and the answer you get itself directly affects our understanding of several other numbers, all of which are vital to any model of the disease.
Coronavirus lockdowns have changed the way Earth moves: The coronavirus pandemic has brought chaos to lives and economies around the world. But efforts to curb the spread of the virus might mean that the planet itself is moving a little less. Researchers who study Earth's movement are reporting a drop in seismic noise — the hum of vibrations in the planet's crust — that could be the result of transport networks and other human activities being shut down. They say this could allow detectors to spot smaller earthquakes and boost efforts to monitor volcanic activity and other seismic events.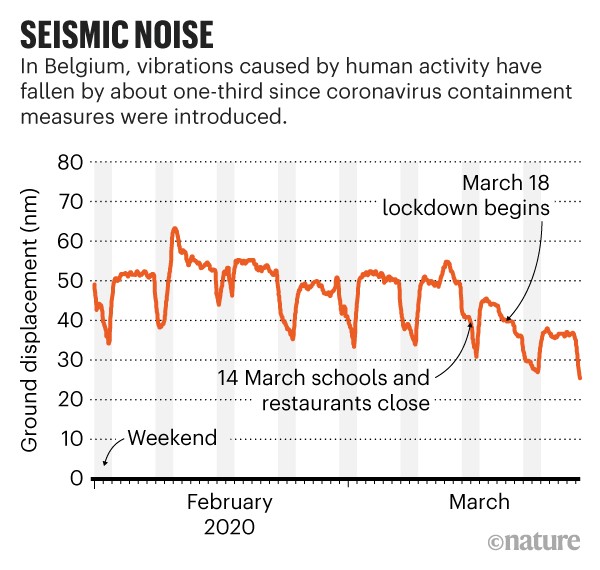 Scientists identify 8 strains of coronavirus
Coronavirus Trends Report: impacto nos meios de comunicação, nas tendências de pesquisa e publicações.
A Pandemia COVID-19: que Impacto nas Áreas da Segurança e Defesa?
Modernizing and Expanding Outbreak Science to Support Better Decision Making During Public Health Crises: Lessons for COVID-19 and Beyond (A first option is to create a permanent federal institution in the form of a new agency similar to the National Weather Service. This centralized service would serve the interagency, producing infectious disease analyses and advancing the foundational science.)
The WHO has failed us again: this cruel pandemic has exposed with the most terrible clarity that we need a global health body free of politics, unfettered by diplomatic restraints and fearless about telling the truth.
Trump lifts restrictions on telehealth services for seniors in hopes of limiting coronavirus spread: "A historic breakthrough — this has not been done before."
Coronavirus isn't an outlier, it's part of our interconnected viral age
Covid-19 Worldwide
Official Update of COVID -19 Situation in Singapore
An interactive visualization of the exponential spread of COVID-19
US COVID-19 Projections show projected hospital resource use based on COVID-19 deaths. The model assumes continued social distancing until the end of May 2020.
A Change in Lesson Plans: Homeschooling in a Pandemic
National Geographic Society is launching an emergency fund for journalists all over the world who wish to cover COVID-19 within their own communities. This fund will place particular emphasis on delivering news to underserved populations, particularly where there is a dearth of evidence-based information getting to those who need it.
News University has curated an array of resources to assist as you migrate to an online teaching/learning environment. Through May 31, 2020, the following list of courses is free.
These satellite photos show how COVID-19 lockdowns have impacted global emissions (N02 emissions in Portugal during COVID-19 outbreak)
How effective is China's 'mask diplomacy' in Europe? it is reasonable to suggest that Beijing could eventually have hidden ambitions in a post-coronavirus Europe.
Google decided to ban most nongovernmental advertising about the outbreak in an effort to defeat misinformation, fraud and scams. But Democrats say the Google ban does something else: It allows the Trump administration to run ads promoting its response to the crisis while denying Democrats the chance to run ads criticizing it.
Zoom Calls Aren't as Private as You May Think. Here's What You Should Know. Boston office of the FBI warns that (…) is vulnerable to hacking.